I have never been a fan of saving. Throughout my life, my Mom is always there for me to provide all my needs. Most of the people that I know consider me as a compulsive buyer. I want to have everything that I want in an instant. The sad reality is that is not how the world works.
Though I had a lot of part-time gigs and sidelines before my graduation, my finances are more or less sustained by my parents. With just one phone call, they could always send me some money through money courier services. I never had any savings before. But when graduation happened, everything started to change.
The first company that I some with was a state university located a few meters from my home in the province. It offered some measly pay that I believe is not enough for my then workload. Because I was a fresh graduate, I had no choice but to understand the situation. I accepted my fate wholeheartedly and continued my work as a teacher. It may not have paid me that much, but it was one of the best experiences that I had. The people were great. My students were jamming. I was able to share my knowledge with the staffers of our student publication. It was perfect until I receive my pay every 5th and 20th of the month.
Aside from teaching, I also had the chance to pursue higher learning by enrolling in a diploma course in Professional Education. And as we know, it entails financial obligation in my end because of tuition and other school fees. I also have some responsibilities at home, so there's almost nothing left for me. Yes, I was able to finish it, but I was not able to have any savings from my first employment.
This was when I realized that financial literacy is not a priority in academic institutions. It is just ironic that our schools teach us things that are essential in the workplace, yet they do not care about our well-being beyond our work life. They promise to help us grow holistically, but a simple financial literacy integration in our courses did not even cross in their mind. I was just so lucky that I had a teacher before, who was associated with Sun Life Financial, that gave a heart-to-heart talk on financial planning. The sad thing is that we were not able to understand a job because we were just juniors then. The people working in student affairs should have given us this talk during our exit interviews to make sure that we are ready in the battle of life.
Though it may be entirely too late, at least I had the chance to attend Sun Life Financial's Let's Have Some FUNds at the Ayala Center on June 24. I was so happy to know that there are ways for me to manage my finances.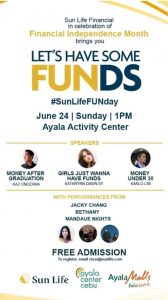 Spectrum "partypreneur" and Rhipstop CEO Kaz Onozawa, architect and Blind Clothing owner Kathrynn Dawn Sy, and Sugbo Mercado partner and marketing and communications manager Karlo Lim took the stage and how they were able to thrive in their respective pursuits and manage their money at the same time. To complement their stories, Sun Life Trainer Danah Mae Latonio, and Sun Life Regional Sales Managers Margaret Bernardo and Michael Gustilo also shared concrete steps that one can take to steer his financial journey in the right direction.
Hosted by Sun Life Trainer and Pop District Bazaar host Jett Pe and Miss Cebu 2011 and ABS-CBN TV personality Mia Ali, Let's Have Some FUNds also featured musical performances by Jacky Chang, Bethany, and Mandaue Nights.
Registration began at 1 pm, and prizes included investment starter funds worth P5,000 and Ayala Cinema movie tickets were given away in separate raffle draws.
Let's Have Sun Life Financial presented some FUNds as part of its celebration of Financial Independence Month this June. After Cebu, the event will also be mounted in Davao and Iloilo. Follow Sun Life (@SunLifePH) on Facebook, Twitter, and Instagram to know more.
The event was also supported by BAI TV, Cebu Bloggers Society, Cebu Content Creators, and Ayala Center Cebu.
About Sun Life Financial
Sun Life Financial is a leading international financial services organization providing a diverse range of insurance, wealth, and asset management solutions to individuals and corporate Clients. Sun Life Financial has operations in several markets worldwide, including Canada, the United States, the United Kingdom, Ireland, Hong Kong, the Philippines, Japan, Indonesia, India, China, Australia, Singapore, Vietnam, Malaysia, and Bermuda. As of December 31, 2016, Sun Life Financial had total assets under management of $903 billion. For more information, please visit www.sunlife.com.
Sun Life Financial Inc. trades on the Toronto (TSX), New York (NYSE) and Philippine (PSE) stock exchanges under the ticker symbol SLF.